2 cups flour
1/4 cup sugar
1/4 cup firmly packed light brown sugar
1 tablespoon baking powder
1/2 teaspoon salt
2/3 cup apple juice or milk
1/2 cup oil
l egg 
1 teaspoons vanilla
1 cup finely chopped, peeled apple
1/2 cup chopped nuts
Domino ® Sugar 'N Cinnamon
Preheat oven to 400 degrees. Grease 12 medium muffin cups or line with paper baking cups; set aside.
In medium mixing bowl, combine flour, sugars, baking powder and salt. Make a well in center of dry mixture, set aside. In another mixing bowl, combine apple juice, vegetable oil, egg and vanilla. Add the egg mixture all at once to the dry mixture. Stir just until moistened (batter should be lumpy). Stir in apples and nuts. Sprinkle with Domino ® Sugar'N Cinnamon.

Spoon batter into prepared muffin cups, filling each two-thirds full. Bake about 20 minutes or until golden. Cool in muffin cups on a wire rack for 5 minutes. Remove from muffin cups; serve warm. Makes 12 muffins.

Tips:
Muffins, like quick breads, become tough if over mixed. Combine the ingredients just until the dry ingredients are moistened. To freeze muffins, wrap tightly in heavy foil or place in freezer bags and freeze up to 3 months. To reheat frozen muffins, wrap in heavy foil. Heat in a 300 degree oven 15 – 18 minutes for medium muffins. One apple yields 1 cup chopped.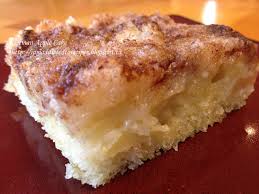 2 cups flour
2 cups sugar
3 teaspoons baking powder
4 eggs
1 cup oil
1/3 cup orange juice 
2 teaspoons vanilla
1 teaspoon salt

Mix dry ingredients, add all other ingredients. Beat 10 minutes.

Peel and slice 5 to 6 medium apples.

Add: 1/2 cup sugar on top of apples plus 1 teaspoon cinnamon and 1/2 cup chopped walnuts and mix until coated.

Grease and flour bundt or tube pan

Pour half of the batter in the baking pan. Cover with half of the apples. Put the rest of the batter on top of the apples and cover with remaining apple/nut mixture.
Note: When adding apples try to keep away from sides of pan.

Bake: 1 1/2 hours at 350 degrees.
Grandma Fix's Applesauce Cake      (Double Batch)
Sift together:    3 cups flour 
1 teaspoon baking powder 
1 teaspoon salt 
3 teaspoons cinnamon 
1¼ teaspoon cloves
In bowl combine and mix;
2 cups of hot unsweetened applesauce
2 cups sugar
1 cup Crisco oil
1½ teaspoon vanilla
Next add 2 teaspoons of baking soda to the applesauce mixture
Add dry ingredients and mix together (do not overmix)
Bake at 350 degrees for approximately 50 minutes if you are using a bundt pan or 20 minutes if you are using an 11 inch by 17 inch pan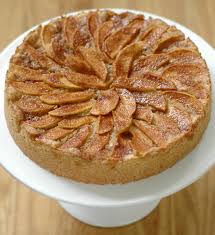 1 cup Crisco
2 cups flour
1 teaspoon salt
6 to 7 tablespoons ice water
Line an 11 inch by 17 inch pan with piecrust bringing the piecrust 3/4 of the way up the side of the pan. To make the piecrust use the following:
Peel apples and slice into 1/4 inch thick pieces.
Place on pie crust in rows
Mix together 1 1/2 cups of sugar and 1 tablespoon cinnamon and pour over the apples
Combine 2 cups milk with 2 tablespoons of flour and pour over the apples
Add more milk if necessary to almost cover the apples
Dot with one stick of butter
Bake at 450 degrees for 15 minutes and then at 375 degrees until done