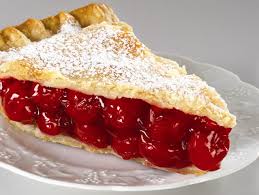 Mix 4 cups sour cherries
3 tablespoons tapioca
1-1/3 cups sugar
1/4 teaspoon almond extract
Let stand 15 minutes.
Fill pastry-lined 10 inch pie plate with fruit mixture.
Dot with 1 tablespoon of butter
Cover pie with top crust; seal and flute edges
 
Cut several slits to permit steam to escape.
Bake 1 hour at 400 degrees or until juices form bubbles that burst slowly. Cool.
 
Note: For a golden top crust, brush with beaten egg before baking
Fruit Cobbler – Bean's version
Very easy and delicious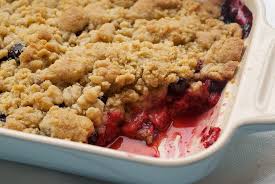 Use Black Sour Cherries or Mont Morenci Cherries, or Peaches
Pillsbury Pie Crust
Enough Fruit to Cover pan
Layer pie plate or pan with crust. Mix flour, sugar and cinnamon together and pour on top of fruit.
Topping: 2 1/2 cups flour
Mix all together until blended and sprinkle on top of fruit.
Bake 400 degrees for 25 – 40 minutes until brown.
Homemade Cherry Ice Cream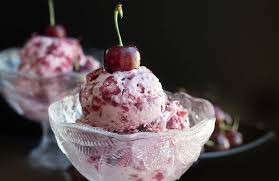 Base
Mixer Bowl – 2 2/3 cup sugar, 5 eggs, 3/4 teaspoon salt. Blend well.
Cornstarch blend – 3 tablespoons cornstarch, 1/2 cup milk in sauce pan until it dissolves, then add 1 1/2 cup milk and stir on low. Cook until it thickens.
Add cornstarch blend to the base, mix and cook slowly. Add 1 pint whipping cream and 3 1/2 tablespoons vanilla. Add 4 cups of milk in the whipping cream to swish it all out. Level out the can with milk if necessary. Add 3 cups crushed (with chunks) of cherries.
Prepare your Ice Cream mixer with ice and salt (as directions say). Plug in and churn away. Continue to monitor your mixer for the ice and salt combo.